Media Rooms and Home Theaters
Furniture ideas for a media room can include those found in home theaters. While the home theater is still very popular, the average home doesn't have the square footage to justify dedicating an entire room for the single purpose of watching movies. The media room has emerged as the popular choice to incorporate a home theater.
Media Rooms Are Multi-Purpose
Many people have converted home theaters into media rooms by adding a large couch and ottoman for other family activities.
Notice the decorative glass screen that hides a refreshment center. Recessed lighting can be placed on a dimmer switch for instance theater lighting. Wall sconces add a dramatic touch.
The theater draperies complete the feel of a high-styled media/home theater room. A pool table on the opposite end completes the redesigning of this room into a multi-functional space.
Reconfigure Furniture If Needed
You can still have the big screen and theater-style seating or you can opt for armless chairs like this room. Notice the wall entertainment unit that can accommodate gaming, DVD and additional surround sound speakers. Plenty of storage accommodates DVDs and gaming equipment when not being used.
Media Room Also a Den
This design has the feel of a den with a large screen and surround sound. Recessed lights are in addition to a sofa table and set of candlestick lamps (not shown). The sectional sofa can be moved about to reconfigure the seating depending on the activities taking place in the room. An oversized ottoman can serve as a table for board games or snacks. Carpeting serves as a sound absorber and completes the overall room design.
Windows Not a Problem
A modern break from the typical media room. This design incorporates the natural beauty of the setting. A modern sound system accompanies a pedestal entertainment center. The modern L-shaped sectional has an attached L-shaped sofa table that can hold lamps, accessories, or even serve as a snack bar. A matching floor cushion provides informal seating conducive to true relaxation.
Dramatic Media Room
Your media room may have windows like this design. Drama is created with dark contrasting colors and white cabinetry and storage. The windows become design elements with dark blinds against stark white trim. The ceiling wasn't neglected and the trey effect is highlighted with white trim. Dark leather theater seats with cup holders complete this multi-purpose room.
Furniture Ideas for a Media Room
Make a statement with a deluxe entertainment wall unit that is both serviceable and attractive. Two gray recliners are ideal for reading, relaxing, watching TV, or enjoying your favorite movies.
Cozy Media Room Corner
You can use the corner of a larger room for an intimate area where just the two of you can sit and watch your favorite movie or play the latest video game. No expense was spared on this luxurious design. Paneled walls and a long under-the-window cabinetry afford tremendous storage areas. Add an end or occasional table and a few lamps and you're set to enjoy a nice evening of entertainment.
Modern Design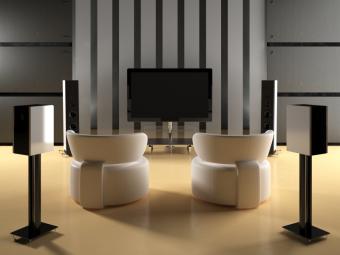 Kick back in this ultra modern design. In the tradition of form and function governing modern interior design, this simplistic approach to a media room zings with style.
Dramatic Design Makes Statement
Set the mood. This red soundproofed room becomes more than a home theater. The body-formed chairs are perfect for gamers, who spend hours defeating the enemy and wining the prize. With an amazing sound system, you can play music as loud as you want, knowing that the soundproofed wall panels will keep the action from disturbing other family members.