Lowe's is one of the United State's leading home improvement stores and, in addition to its remarkable array of building supplies, gardening equipment, home decor options, paints, plumbing, storage and tools, the company also offers a stunning outdoor line called Garden Treasures patio furniture.
There are more than 250 pieces in the Garden Treasures collection, which boasts everything from outdoor canopies to furnishings, fountains, repair kits, bird feeders and thermometers. The prices are reasonable and the quality is excellent.
This popular collection offers nearly every type of style for every kind of decor or taste--from highly traditional to modern.
Garden Treasures Patio Furniture Highlights
Here are some highlights from the collection.
Beige Steel Gazebo
At 120-inches by 120-inches this gazebo is a must-have for anyone with a backyard and a penchant for entertaining. With a durable steel frame and mesh corner shelves, the gazebo is a perfect setting for an outdoor buffet, a station for the family DJ, or as an alternative space to escape the sun or rain.
Steel Fire Pit
If the nights get cool, or if you like to use your outdoor space into the fall, this steel fire pit is a must-have. The design is slightly rustic, with a hand-laid slate top, and the burnished brown powder coating is a gorgeous finishing touch.
Dockside Dining Patio Chair
With minimal cost comes maximum style and comfort. A heavy-duty steel frame, UV-protected sling fabric, and a one-year warranty on both the frame and fabric make this standard outdoor dining chair anything but typical. Stackable and easily cleaned, you truly can't go wrong with this under-$30 classic.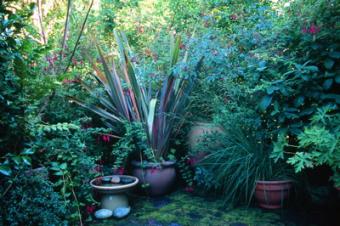 Eleven-inch Square Seagrass Planter
Every porch or patio needs its fair share of plants to create a lush outdoor environment. The Garden Treasures seagrass planter is basic enough to work with nearly every decor. Wicker construction guarantees that it will be sturdy enough to last throughout many seasons, and an interior liner ensures that the natural materials are protected from plant moisture.
Oak Leaf Two Tier Fountain
If you have always dreamed of having a fountain in your backyard, check out this 26.4-inch version for under $300. The resin fountain has an easy plug-in setup with a pump and tubing included. Lowe's also provides a one-year warranty on the fountain in case anything goes awry with the pump.
Ten-foot Square Pergola with Canopy
Add a bit of Asian flair to your patio space with this sizable square pergola. A heavy-duty steel frame, rust-resistant powder-coated finish and UV-protected sling fabric all but guarantee that this piece will be a mainstay of your outdoor space for years to come. It is ideal for protecting an area of your backyard from inclement weather, and will make your next patio party more comfortable for guests who want to stay out of the sun.
West Loop Place Bench
A spot in a secret garden, or a place to sit amongst the flowers, garden benches provide a place for respite and reflection in your outdoor space. This version from the Garden Treasures patio furniture collection offers a powder-coated aluminum frame, synthetic seat and back panels and stainless steel hardware. The design details are simple and stunning, with classic art nouveau touches on the arms and legs.
Quilted Double Hammock
What would lazy summer days be without a classic hammock on hand to lounge around and read a book or fall asleep in the afternoon shade? Eighty-two inches long, and 55-inches wide make this hammock an ideal location for Saturday nap time. And if the size isn't enough to coax you into owning one of these, consider the included king-sized pillow and one-year warranty against defects. The dog days of summer just got better.
Where to Buy
Check your local Lowe's Home Improvement store or go online to Lowes.com to find the Garden Treasures collection.