Tractor Fun!
A customized or specialty bunk bed design is guaranteed to please any child; it's worth the extra effort and cost.
A tractor front loader bed will please any child fascinated with equipment, construction, or farming. This design takes advantage of the bucket, using it for a step up to the ladder leading to the top bunk. The bucket steps feature cubbies for storage. A canopy over the top bunk and two wheels on the bottom bunk complete a very an authentic look to this clever design.
Wyatt Saloon
More Details"
This bunk bed design is ideal for even the littlest cowboy. One bunk bed is hidden behind a pair of saloon doors. The lower bunk area also serves as a play area. The second bunk bed is fitted upstairs along the railing and offers a quick escape route via a slide. Star, longhorn cattle, armadillo, and horse motifs decorate the bunk beds complemented with a pair of miniature Texas flags.
Hobbit Bunk Beds
This cool bunk bed design is reminiscent of Hobbit homes. The bunk beds look as though they're growing out of the walls and floors. The ladder and rails are made from twisted wood that emulates natural growth. It's a design that even teenagers who share a room might appreciate if they are fans of the Lord of the Rings trilogy.
Camo Duck Blind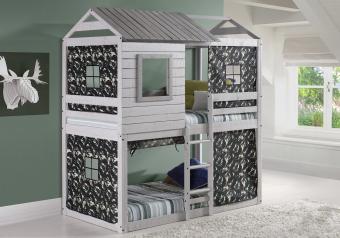 Buy Now"
A simple camouflage design will please any outdoor enthusiast especially this gray themed one. The bunk beds are designed like a duck blind complete with roll up panels and a partial roof. It's a great addition to a hunting or outdoors-themed bedroom. The playhouse design invites lots of fun memories.
Dinosaur Mania
More Details"
Any dinosaur lover will adore this customized dinosaur bunk bed. Your young explorer will have countless adventures climbing to the top bunk and sliding down the opposite side (on top the dino's tail, no less!) while playing among palm trees and dodging the large dinosaur. Even the stairs are themed to fit this exciting design.
Star Struck
More Details"
Give an aspiring singer, dancer, or entertainer the stage with this adorable star struck bunk bed design. The billboard says it all, customized with the rising star's name. The stage is one small step up and features stage lights. When the performance is over, the star can climb the steps to retire on the top bunk or may prefer to sleep close to the stage.
Converted Closet Bunk Beds
More Details"
One way to expand bedroom space is to convert a double closet into bunk beds. This design features storage space over and under the bunk beds. By using the closet for beds, the floor space is freed up so that the bedroom can double as a play space. Kids will love that they have more area to play, and parents can be pleased their cool design saves space!
Ahoy Matey!
More Details"
This bunk bed design is a pirate's paradise. Every young pirate will spend hours imagining riding the high seas in search of the next treasure. This realistic design features lamps, pulleys and ropes. A half barrel step gives access to the lower bunk and a rope ladder to the top bunk.
Flowery Cottage
More Details"
A two-storied cottage complete with window boxes and shake shingle roofs features bunk beds and a pull-out trundle bed for sleepovers. The white with gray trim color scheme serves as a great backdrop for the colorful flowers in the window boxes. The upper bunk is accessed with a set of steps with a handrail.
Use your imagination to design a customized bunk bed design for a fun themed bedroom. Even adults will enjoy the cool beds that reside in their children's room.