Creative Beds
Not every bed has the dual purpose of inspiring your dreams while it gives you a good night's sleep, but having one that can do both is definitely a plus. Get inspired to create a bedroom getaway of your own with these cool beds.
This castle-dwelling bed has an old Medieval vibe to it that complements the rest of the decor. To get the look, hang a curtain rod from the ceiling above the end of your bed, a second one just above the head. Drape cloth or a curtain between the two rods, anchoring it at the bottom down below your headboard.
Contemporary Curves
If you have a contemporary-style home, match the rest of your clean lines and flowing curves with a curved bed. This white leather and chrome bed is all fluid lines; no worrying about banging your shin on a sharp edge here.
To help recreate this look at home, consider purchasing or creating a fabric or leather-covered curved headboard. Tuck your bedclothes under the mattress to help give it cleaner lines as well.
Hamburger Bed
This playful bed is right at home in a kid's, guest or fun-lover's bedroom. Recreate the look for yourself using a rounded or curved futon as the base. Create a top bun with an overstuffed duvet and fill it with layers of blankets and sheets to recreate the sandwich.
Lago Colletto Bed
More Details"
Put yourself to bed each night inside a nest with the Lago Colletto bed. This bed features a soft foam ring around the mattress that you can fold up or down. When raised, the ring helps to deaden sound around the bed, creating a more restful slumber.
Modern Minimalist
Turn your dreams upside down with this modern, minimalist-style bed. The headboard of this bead sweeps uninterrupted across the ceiling, creating the illusion of shelter without the fabric and curtains of old-fashioned beds.
To get this look, start with a platform bed, and create a stuffed-fabric headboard that is 1-1/2 to 2 times the length of the bed. Staple it right to the ceiling for an instant canopy.
Lomme Bed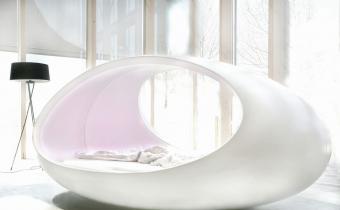 More Details"
Revolutionize the way you rest with the contained Lomme bed. The Lomme bed is more than a mattress - it's an entire experience. Colored lights reflect on the interior of the bed; controls allow the user to select both the color and the intensity of the light.
The bed also blocks sound from outside for a more restful experience. An built-in iPod lets users add music or other ambient sounds to their sleep. Mattresses with built-in massage options are also available.
Moroccan Palace
Turn your bed into an exotic getaway like this Moroccan Palace-themed bed. Start with a low platform frame and include a tall, fabric-covered headboard to give the bed some character and height. Complete the look with some colored pendants hanging above.
Private Cloud
More Details"
Rock yourself to sleep each night in the Private Cloud rocking bed. The wooden-framed bed is built on flexible feet that allow you to lock it into place, or allow it to gently rock you to slumber. You can also fix the bed in an elevated position for reading or watching TV before sleep.
Wavy Bed
Add some graceful curves to your bed to give it a completely new look and feel. Recreate this look by beginning with an elevated platform bed. Use a jigsaw to cut a large piece of birch plywood into a wave pattern and paint it white.
Complete it with a fabric-tufted headboard and luxurious bedding.
Framed Bed
Help deaden sound and create a sense of privacy by framing the head of your bed. Thick, foam and fabric boards extend the headboard out beyond the head of the bed, then curve it down the sides to frame it slightly.
The dense foam helps to deaden the sound around the bed, giving you more restful sleep.
Alcove Bed
Sometimes the best things in life are also the most simple. Tucking a minimalist-style bed into an alcove creates a cozy sleeping chamber.
Use a platform bed with an extra-thick mattress as the base for this bed, and if no small rooms are available, create the illusion with some privacy screens.
Zen Platform Bed
Turn your sleep into a completely Zen experience with this platform bed. A very large platform forms the base for two separate sleeping areas. Each area uses its own mat for comfort. A large frame and curtains helps to create some privacy and ambiance for the bed.
Sculpture Bed
More Details"
Go to sleep every night inside a work of art. This welded aluminum sculpture by Jakob + Macfarlane is made to embrace the sleeper and give them the feeling they're sleeping within a playground jungle gym.
Complete your interesting and exotic bedroom furniture with any of these cool bed ideas and see where your dreams take you.