Interview: Custom Made Furniture
Buying custom made furniture is a way to focus on quality and getting exactly what you want. It's an eco-friendly way to furniture shop because you're able to shop locally and choose the materials you want present in your furniture. CustomMade.com allows you to match the projects you have in mind with someone near you, with the skills to create exactly what you need. LoveToKnow had the opportunity to speak with CustomMade CEO & Co-Founder, Michael Salguero, about locating the craftsmen to build exactly what you want and choosing custom furniture.
Shopping for Custom Made Furniture
LoveToKnow (LTK): What are some of the benefits of choosing custom made furniture rather than buying something in a retail store?
Michael Salguero (MS): From a consumer standpoint, you can get something local and build a relationship with the maker. It's eco-friendly, you can use sustainable wood and choose the materials you want. From a pricing standpoint, comparing middle to high end, they're on par. When you shop in a retail store, you don't have any connection to the piece, you don't know who made it or where the materials came from. You also have the ability to customize it to anything you want, the size, how you want it put together.
LTK: Do you have any tips for shoppers looking for eco-friendly furniture items?
MS: Some of the buzzwords to look for are recycled or reclaimed, as they indicate eco-friendly products. With reclaimed barn wood, for example, they use wood that has been taken down from a barn instead of having to chop down trees. Storm damaged wood is another to look for. This type of wood is from a tree that was killed in a storm and not just harvested for the wood. Pine beetle wood from Colorado is also an option, where the tree was killed by a pine beetle. These items have a distinctive bluish/purplish hue. Makers are willing to work with consumers when they're searching for eco-friendly choices.
LTK: Do you have any tips for customers who would like to educate themselves before they engage in a project with a maker? For example, if they want to know materials they'd like their furniture built from, special techniques, or just fair pricing guidelines?
MS: At CustomMade, we do our best to educate our customers before they make a purchase. We have a lot of information for consumers on our blog regarding how to buy custom items, as well as a dedicated in-house staff to help consumers with any questions or concerns. We also urge shoppers to start a conversation with a maker, as these craftsmen are typically happy to answer any questions.
Trends and Materials
LTK: What are some of the most interesting custom made furniture pieces you've seen?
MS: My favorite is some of the live-edged stuff where you have a vertical slab of wood with bark on both sides of it. [Those are] really neat projects.
LTK: Have you noticed any particular trends in the custom made items people are looking for?
MS: In custom wood-working, live edged is very big and reclaimed and recycled are big.
About CustomMade.com
LTK: How did CustomMade get started?
MS: CustomMade was started in 1996 by a woodworker named Ted Whitenkraus who developed the website to promote custom made furniture to consumers. In 2008, my good friend Seth Rosen, who was a real estate financier at the time, was looking for a custom made coffee table and found the product through CustomMade.com. He was overjoyed with the quality and craftsmanship of the piece and realized that the site had much more potential so he and I immediately started raising the necessary funds to buy the website.
In 2009, we bought CustomMade and updated the site to improve the way custom products are bought and sold. Within two years, the CustomMade community has grown and expanded to include over 2,100 artisans and custom furniture makers.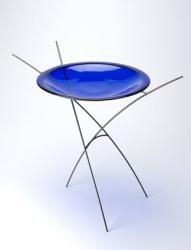 LTK: How does it work?
MS: CustomMade is the first online marketplace to connect shoppers looking for custom items with the skilled artisans who create them. The website is designed so you can find the right information as quickly and efficiently as possible.
You can browse through the different galleries based on function, search for a particular artisan in your area, or type in specific search terms - types of materials, styles, etc. to find a craftsman (or woman!) that fits your design style and needs.
Additionally, you can turn to the website's Job Board feature, which allows you to describe the item you want made, then qualified craftsmen essentially 'bid' on the project, and the you chooses the best artisan for the job.
If you aren't looking to design and build an item from scratch, you can purchase an existing custom made item immediately by clicking on any project with the green 'Buy' tag or go directly to the ReadyNow store.
LTK: What do craftsmen need to do in order to have their work featured on the CustomMade site?
MS: CustomMade is intended for furniture makers, jewelers, glass workers, blacksmiths, woodworkers, etc. - anyone who makes and sells custom goods. To become a member of the CustomMade community, you can sign up for a monthly fee, which allows you to post your work and gives you unlimited access to job leads. Additionally, when you become a member, shoppers can search the site for local artists and contact you directly.
LTK: What kind of quality control is there?
MS: When working with a CustomMade craftsman, careful and transparent communication with the artisan is a must. Be sure you have a clear mutual understanding about what is to be built, what construction methods and materials will be used, and how delivery or installation will occur. The majority of all problems can be avoided with effective communication.
Choosing Custom Furniture
Whether you want to make your custom made or local furniture purchase as a way to be good to the planet or you just want something unique or specially made with unusual dimensions to fit a specific area in your home, communicate well with the craftsman and you'll soon have exactly what you need. With custom made furniture, you'll have the advantage of knowing exactly where your furniture came from, and if you're thrilled with the outcome, having a relationship with a craftsman will ensure that your home has the finishing touches and focal points that you thought you could only dream of.