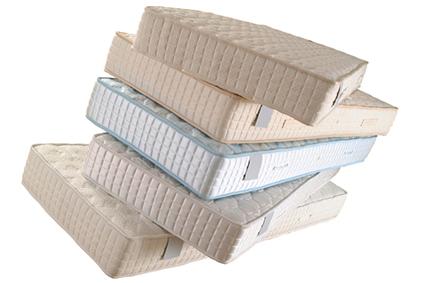 When it's time to shop for a new mattress for your bed, education is your best defense in a market fraught with tricks and gimmicks. It's possible to purchase an excellent mattress for much less than the price advertised. Once you're armed with knowledge, you'll be able to spot what is a real value and what is purely hype.
Lie Down and Test the Mattress
The most important part of selecting the right mattress is that comfort is subjective. The mattress that your sister recommends might be too firm for your sleep comfort. While you may be self-conscious, the best way to determine if a mattress is right for you is to simply lie down on it.
Consumer Reports recommends 15 minutes is needed to ascertain if the mattress is right for you in their Top Mattress Ratings report, but according to Mattress To Go's Beducation video it only takes 30-45 seconds to know if a mattress is comfortable to you. Regardless of how long you lie on a mattress in a store, take your time and be certain of the comfort level. That level can be influenced by several things such as mattress construction and individual preferences.
Lumbar Support and Mattress Comfort
Ron Rudzin, CEO of Saatva Mattress, one of the largest online luxury mattress companies in the U.S., said that one issue many people are concerned with when it comes to purchasing a mattress is good lumbar support.
Rudzin explained, "For lumbar support which is crucial for our back's health, attention must be applied in construction to added layers of foams and spring usage or in the case of a memory foam mattress, more blended and denser layers of foams in the lumbar area."
Memory Foam and Coil Mattresses
Some experts recommend a memory foam mattress for support. "Focus only on a memory foam mattress that allows for the most efficient air circulation within the mattress," Rudzin said. "Either innerspring or memory foam mattresses must have great air circulation."
When it comes to whether a coil mattress is better than a non-coil mattress, Rudzin said, "Neither is superior to the other. These are two distinctly different types of comfort that is the personal choice of the consumer."
To get that feeling of extra comfort plushness Rudzin advised, "Comfort levels will vary depending on density of foams used. A 'tight top' mattress [no pillowtop] can be a good choice if the consumer is concerned with slight body impressions or the consumer is 'very heavy' in weight."
Truth About Comparison Shopping
If you want to comparison shop mattresses, you first need to understand how the industry works. It's different from other industries.
"Be very aware of the mattress industry's constant ploys to trick and entice consumers with sales almost every day of the week," Rudzin said.
"Comparison shopping is impossible," he continued. "Mattress factories will simply give different names and simply just change a ticking color as the manufacturers work their deals with the retailers."
You could very easily think you're comparing two different mattresses since they have different names, when in fact, the mattresses are identical. That's why a little knowledge can save you a bundle.
About Mattress Pricing
According to Consumer Reports, "manufacturers sell the identical or nearly identical mattresses to different retailers with exclusive model names." This makes comparison shopping difficult. Also, the pricing of the same mattress can differ from one store to another due to the individual store's pricing policy. Many customers incorrectly assume that a pricey mattress equates to highest quality. It simply could be that the store as doubled or even tripled the recommended manufacturer's price.
Some stores will overprice mattresses in anticipation of customer haggling. Because of these practices within the industry, Consumer Reports's Mattress Buying Guide video in the Top Mattress Ratings article states that consumers should try to haggle the price of a mattress to at least 50% below the retail price tag.
You can avoid price gouging by comparing the prices of the same mattress through online research. This will give you a good idea of the actual value and cost of the mattress before you step inside a store.
Set a budget and stick with it. It's easy to be swayed by a good sales person to spend more money than you've allotted for your mattress purchase.
Mattress Quality
According to Rudzin, "Quality is determined by construction." Mattresses are what's known as a "blind product", meaning you can't see inside to determine the exact construction. Rudzin advises buyers to "Look for higher density of non-toxic foams and dual innerspring construction." These two things can help you ensure you're purchasing a quality mattress.
"This type of construction is best to prevent sagging" he explained. "In the case of memory foam mattresses, look for higher weight/density of non-toxic foams."
Rudzin suggested eco-conscious buyers "Look for an organic mattress for best health but if the consumer's budget does not allow for such a decadent expense, a strong green initiative easily suffices."
Many mattress companies advertise their green initiatives for production of their products. You can support such efforts by selecting a mattress made by a company that adheres to green manufacturing principles.
Warranties
Mattress manufacturers offer all kinds of warranties that are product-specific. According to The Better Sleep Council a "warranty on the new mattress and foundation you purchase is not an indicator of how long the product should be used before replacement."
The Council reminds consumers that a warranty protects buyers from product defects not against "gradual loss of comfort and support." One of the latest marketing ploys of retailers is what's commonly referred to as "comfort guarantees".
This is when retailers offer customers the option to return the mattress if they find it uncomfortable once they've used it. The problem with this type of guarantee is that many store have a return fee and/or a restocking fee attached to this guarantee. In addition, the Mattress To Go's Beducation video states that some stores simply re-wrap the mattress and return it to their inventory for resale as a used or more often as a new mattress.
Shopping for Different Mattress Types
The Better Sleep Council lists 10 types of mattresses. Most people can find one of these types of mattresses to offer a comfortable sleep. Follow these tipes for picking the right type for yourself:
Adjustable foundations give greater comfort control for sitting up in bed as well as easing painful pressure points.
Air beds with dual adjustment controls are great for couples who have different preferences for mattress firmness.
Foam mattresses come in different densities that control how much resistance the foam has to body weight.
If you like to stay cool, the addition of gel in foam mattresses allows for greater breathability that reduces build-up of body heat.
Hybrid beds combine two or more technologies to give added comfort; choose the combinations that suit your needs for a good night's rest.
Choose an innerspring mattress if you want one that gives better body support.
Latex may be the most expensive type of mattress, but is also one of the longest lasting, so consider it if you want your mattress to last.
Memory foam contours to individual bodies; perfect for sleeping with a partner.
If you like feeling nestled in softness and comfort then a pillowtop mattress is for you. It's like sleeping on top of a soft luxurious pillow, hence the name. If you prefer a firm mattress, then a pillowtop isn't for you.
Some people find waterbeds easier to sleep on and find relief of painful pressure points since the weight is equally distributed.
Mattress Size Tips
Before you set out to shop for a mattress, determine what size is going to best fit in your bedroom. You want to allow enough space to get in and out of the bed easily. There are seven standard sizes, plus a crib and toddler mattress; if you're looking for a futon mattress, it will follow standard industry sizes.
Standard Sizes
Twin: 38"W x 75"L
Twin XL: 38"W x 80"L
Full: 53"W x 75"L
Full XL: 53"W x 80"L
Queen: 60"W x 80"L
King: 76"W x 80"L
California king: 72"W x 84"L
Tips for Choosing the Right Size
The twin XL mattress is great for taller people, adding five extra inches. For example, most college dorms use this size mattress to accommodate taller students.
The full XL mattress is a better fit for taller people than the standard full, as an extra five inches are included in the length.
The California king is a better choice for taller people. While you do lose four inches in the width, if you're tall, it's worth the sacrifice to gain an additional four inches in length so your feet don't hang over the end of the mattress.
A crib mattress and toddler mattress are the same size, so there is no need to buy a separate toddler mattress when your child is ready to transition from the crib to toddler bed.
Choose a Trusted Seller
"Look at the reputation of the seller, which is so easy to do in today's Internet world," Rudzin said. "The reviews should be abundant and they should be overwhelmingly good by consumers who have slept on the product and if not, the consumer should move on to another source." The bottom line when shopping for a mattress is that you should be able to trust the person selling it to you.