Unfinished Furniture Retailers and Tips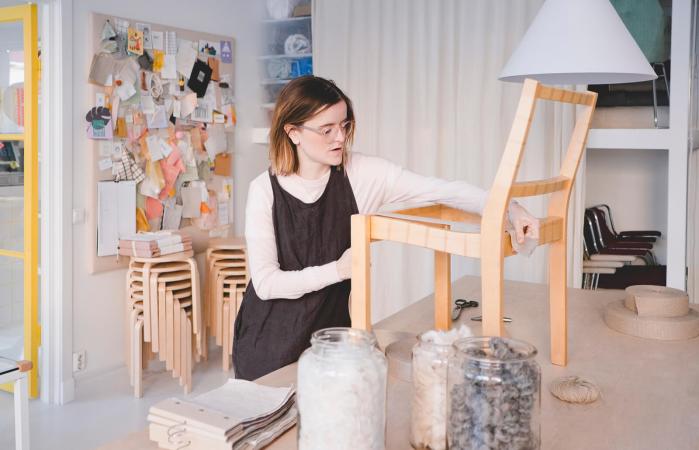 Unfinished pieces of furniture can save you money and provide creative opportunities. You can paint, stain or stencil unfinished furniture any way you like to reflect your personal style and taste. Many of the unfinished furniture manufacturers sell through a third party furniture dealer or website, making their products easily available.
Wayfair's Unfinished Furniture
You can find a wide selection of unfinished furniture at Wayfair. Choose from unfinished solid wood dining tables, dining chairs, desks, coffee tables, bar stools, TV stands, nightstands, dressers, console tables, bookcases, end tables, benches, and pub tables.
Styles, Wood Types and Prices
The styles offered for unfinished furniture are varied. You can select an unfinished piece of furniture made from solid wood. Some pieces have more than one type of wood that might be cedar, pine, Para wood or rubberwood. The price range is as low as $40 to as high as $1,080+, depending on the size, style and type of wood.
Shipping and Returns
You can return most items for a refund or store credit within 30 days of delivery. Return shipping costs apply, and the item must be in the packaging to be accepted.
Clearance items aren't returnable,
Some items are marked non-returnable.
Any items you assemble aren't returnable.
Damaged and defective items are returnable. You will pay shipping costs.
Free shipping on orders over $49.
UnFinished Furniture Outlet
The UnFinished Furniture Outlet offers dining room, bedroom, custom wall units, bookcases, entertainment stands, consoles, tables, kids' furniture, benches, storage, office, living room, and outdoor unfinished furniture. Dining tables prices start around $162 and up, depending on size and style.
Furniture Styles and Woods
There are several furniture styles available, such as Country French, Tuscany, and Shaker. The different solid woods used to manufacture the furniture include, pink, maple, oak, Para wood, and Adler.
Shipping and Returns
If you live near the Stanford, NC store, you can pick up your order and have it assembled for free. A 100-mile radius of home delivery is available, along with nationwide US shipping by FedEx or freight. All returns require previous authorization via email within seven days of delivery. A full refund is given minus any shipping fees, unless return is no fault of buyer. There is a 15% re-stocking fee on all returns.
Unfinished Furniture Expo
Unfinished Furniture Expo features furniture for almost every room in your home. This includes furniture for your kitchen, bedroom, dining room, living room, and kids' rooms. You can find benches, coffee tables, tables, chairs, bedroom furniture, dining tables and chairs, and end tables.
Furniture Collections
You can find several furniture collections with attractive inviting styles, such as, Farmhouse, Cottage, Luxe, Cosmopolitan, and Bridgeport. Be sure to check the clearance section for great price cuts!
Unique Purchases
You can purchase some unique unfinished furniture pieces, such as a table pedestal. If you need to replace an existing table pedestal, this may be your ideal option. Pedestals start around $69. You can completely remake your table when you also purchase an unfinished tabletop that starts around $115.
One Stop Finishing Center
Unfinished Furniture Expo is a one-stop finishing center. You can also purchase the necessary furniture finishing products, such as milk paints, stains, gel stains, brushes, accessories, and furniture glides (self-leveling floor protectors).
Shipping and Returns
All shipping on orders over $49 are free! Most items are shipped FedEx Ground until small enough for USPS. All returns must be authorized with a return merchandise authorization number (RMA). You will pay the return shipping costs and a 15% restocking fee.
Amazon
A quick word search for unfinished furniture on Amazon presents a wealth of choices. You can purchase unfinished dressers, nightstands, bookcases, end tables, sofa tables, coffee tables, entertainment centers, and more. Some of the styles include Shaker, Mission and farmhouse style, as well as some rather plain, nondescript designs.
Types of Wood and Pricing
You can find unfinished solid wood furniture in birch, pine, and ash. Some dining chairs are sold in pairs that start around $125/pair. Some side table prices begins around $40.
Shipping and Returns
The majority of the unfinished furniture pieces have free shipping. Many are part of Amazon Prime. Amazon has an excellent return policy with a prepaid return label. You can request either a replacement or a refund that is credited when the returned item is received.
Fighting Creek All American Furniture
Fighting Creek All American Furniture is 100% Amish made and unfinished. All the furniture is made from solid pine and is ready for you to paint or stain. You can find a wide selection of furniture pieces.
Furniture Pricing and Purchasing
You can only purchase this furniture from a dealer. To locate a dealer, you must submit a request for the dealer information. This requires your name and email and a brief message of your location and what you're looking for.
Whitewood
Whitewood manufactures real solid unfinished furniture. Some of the furniture pieces offered include, high dining, home office, juvenile, kitchen, stools, storage, occasional/accent pieces, bedroom, benches, chairs, dining tables, and entertainment centers.
Furniture Styles Available
There is a nice selection of dining chair styles that include, Colonial, Shaker, ladderback, Country French, Windsor, Mission, farmhouse, coastal, Queen Anne, and more. Bedroom furniture designs are rather limited in plain and simple styles.
Buying Information
You cannot buy directly from Whitewood, but many large unfinished furniture dealers carry Whitewood furniture. You can find a dealer on the Whitewood Website by entering your zip code. The results provide you with the dealer name, address and phone number.
Unfinished Furniture of Wilmington
Unfinished Furniture of Wilmington is made from real wood and never any type of particle board or MDF. The face frames, posts and drawers are always made using solid wood.
Several Manufacturers
You will find one of the largest selections of unfinished furniture for interior and outdoor at Unfinished Furniture of Wilmington. The company features many manufacturers of unfinished wood furniture. Price ranges from low to high depending on furniture piece, style and manufacturer. For example, a plain stool sells around $26 and a 36" round drop-leaf table costs around $170. The prices increase with style, designs, size, and type of wood.
Types of Wood
Some of the types of softwoods and hardwoods woods you can expect to find in the unfinished furniture include, eastern white pine, paulownia, oak, radiate pine, maple, birch, cherry, and Para wood. Not all furniture pieces are assembled. Unassembled pieces are indicated by RTA (Ready To Assemble) on the website listing.
Type of Furniture and Styles
You can find a large choice of styles such as, Mission, farmhouse, Shaker, cottage, and modern. Types of furniture include, accent pieces, coffee and end tables, side tables, console tables, sofa tables, benches, chests, dining tables, chairs, plant stands, bedroom, bookcases, entertainment, office and kids' furniture. You can also find outdoor furniture, such as rockers, benches, porch swings, and chairs. Be sure to check out the clearance section for cost saving values.
Shipping and Returns
Many items have free shipping since they are drop-shipped from manufacturers. These are flagged on the website. Shipping fees are determined by at check out. Full refunds are given minus the return shipping cost.
Why Unfinished Furniture Is a Good Choice
You don't have to be a craft person to take advantage of unfinished furniture. You can easily paint or stain unfinished furniture to the desired color or tint you prefer.
Customized Furniture Option
Some finished furniture choices offered might not be what you envisioned. By choosing unfinished furniture you have the opportunity to have exactly what you want. Some unfinished furniture companies offer customized services for an extra fee, giving you more furniture options.
Creative Craft Designs
If you happen to be a crafts person, unfinished furniture is a blank canvas for stenciling, milk paint, chalk paint, or other crafts project. Unfinished furniture offers you the opportunity to create a one-of-a-kind piece of furniture to make your décor extra special.
Cost Savings Advantage
Unfinished furniture is typically less expensive than finished furniture. If you're working to stretch your furniture budget, adding a few unfinished pieces can make your furniture dollars go further.
Sensitivity to Chemicals
Going with unfinished furniture can save you exposure to harmful chemicals. This is especially beneficial if you're sensitive to chemicals, especially those used in the furniture business. You can select a type of finish that you can tolerate.
Drawbacks of Unfinished Furniture
Unfinished furniture projects require dry times between the steps required when applying finishes. If you aren't patient with waiting on things, then you might not be a good candidate for unfinished furniture projects. If you don't enjoy DIY projects, then you won't like unfinished furniture projects and would be better off buying finished furniture.
Tips for Buying Unfinished Furniture
When you shop for unfinished furniture, dig a little deeper into the company. You can check online reviews and the BBB (Better Business Bureau) for any complaints. A few things to consider include:
Delivery time: How long will it take for your order to be made, shipped and delivered?
Type of wood: Is the furniture made of solid natural wood or is it an MDF (Medium-Density Fiberboard)? MDF means the wood is engineered by breaking down soft and hard woods.
Assembly: Will your furniture arrive assembled or will you be required to assemble it?
Weight: Make sure you know how much the assembled piece of furniture weighs especially if you live in an older home whose floors might not support very heavy pieces of furniture.
Choosing Unfinished Furniture for Your Project
There are several ways you can save money when furniture shopping and unfinished furniture is an excellent solution to tight budgets. Make sure you fully understand what you are buying before placing an order.